MECOP Inc. Executive Director Search
With the coming retirement of our legacy Executive Director, Gary Petersen, we are seeking a dynamic, passionate leader to head up our successful, one of a kind non-profit internship program. Our mission is to "Enhance and expand an industry driven work experience cooperative program through university partnerships, which is of the highest quality and meets the needs to Pacific Northwest industries by providing excellent real-world experience for engineering and business students. We value our partnerships with participating schools and recognize the importance of work experience as a part of the educational process." The new Executive Director will be credible, advocate for students, universities and industry for program alignment, and have the ability to build relationships and trust quickly. Our new leader will be confident and organized and have the ability to manage and lead across multiple platforms; university, industry and academic. Our new Executive Director will additionally strategically manage growth while maintaining strong relationships with our current partners. The ideal candidate will thrive in a collaborative environment and be able to take direction from the Board.
We are looking for a person who
is a strong and effective communicator
is a dynamic and passionate presenter
is passionate about providing real world work experience to students before graduation
is a strategic thinker and problem solver
is able to work closely with private industry, public agencies and universities
has the ability to build and maintain relationships for program support and alliance
can thrive in a collaborative environment and be able to take direction from a Board of Directors
About MECOP
Unique among cooperative programs, MECOP Inc., formerly known as the Multiple Engineering Cooperative Program, demonstrates the power of an effective business/education partnership. The source of strength for these programs is the imaginative ideas they are founded upon: support by a voluntary annual assessment on member companies; insisting upon a high order of industry interaction with universities and their students; and continual improvement as Universities adjust their curriculum on recommendations made by MECOP's industry partners.
Our history / growth charts...
Program Overview
MECOP is a program available to students in disciplines in, and relating to, the engineering industry. These include:
Many programs currently exist with university-industry cooperation. Few, however, have blended as many of the elements found in the MECOP. The program provides students at participating universities with a unique—and in many ways—innovative program of education.
Five-Year Degree / Two Six-Month Internships
Much discussion has evolved around the inability of major universities to provide an adequate education in in a four-year program. Economic limitations hinder their ability to keep up with state-of-the-art technology. With this in mind, we feel we are providing the best of both worlds—the University for the technical/theoretical background, and selected industries for the practical, state-of-the-art applications. Our goal is to supply the Northwest with the best graduates with the necessary tools to be true contributors in their chosen fields.
Student Selection
Students are selected into the program through two screening processes following the submission of an application. First, they are screened academically by an advisor from their academic department. This is primarily an effort to ensure that students are academically qualified to take upper-division courses and can complete the minimum course requirements prior starting their first internship. A second screening takes place through an interview process during which a panel of industry representatives from multiple companies in the program interview applicants. The goal of this screening is to make every effort to ensure that the students are qualified and ready for future internship placement. Students are rank ordered based on their interview scores and accepted to the program based on MECOP's projected pool of internships for each discipline in the next internship year (starting Spring of the following year).
The Internships
MECOP's objective is to develop students through a variety of high quality companies and firms that employ a wide range of disciplines. To ensure this, the students are required to intern at two different companies. This allows both the University and the students a more representative view of today's diverse career opportunities.
Internship Placement
Representatives from each participating company are required to take part in the process for placing students into internships. The process consists of an informal social gathering introducing students and representatives (known as Fall Event), followed by formal interviews at a later date. During the placement interview, each student is interviewed by a group of company representatives looking for interns in the student's discipline. Questions asked are targeted toward clarifying students' needs, expectations and interests to help companies narrow their list of candidates. In a meeting following the interviews, companies select students for internship placement at their organization. Selection order is lottery based to allow all participating companies an equal chance for selecting any given student.
Program Administration
Organization Layout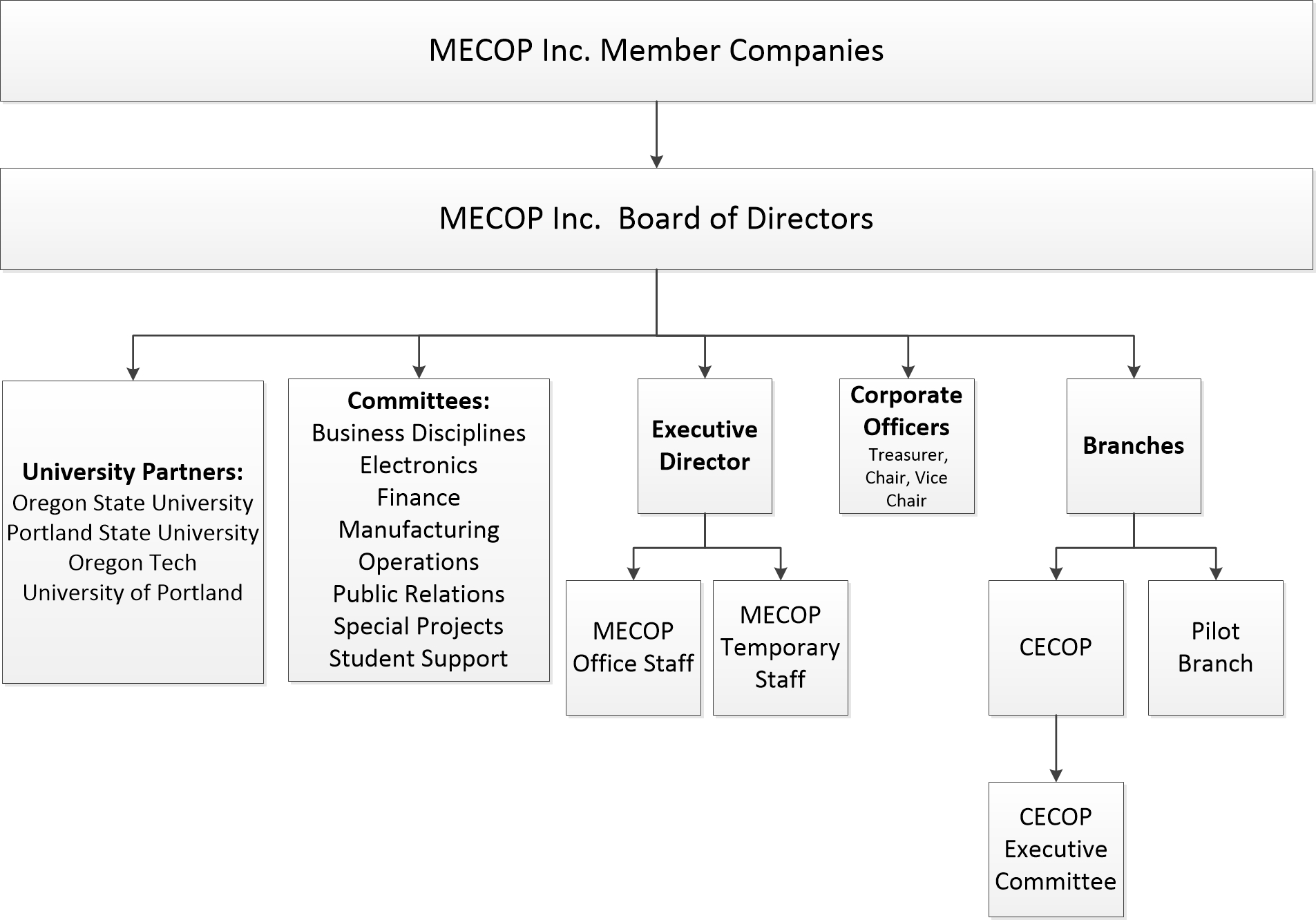 Industry and University Member Representation
Each participating company and university appoints a representative to attend member meetings. This board of representatives serves a vital role for the program. These members develop, help manage, and actively participate in all program activities. These activities include but are not limited to curriculum development, financial support, student selection, development of internship sites, placement of students into internships, and the promotion of MECOP.
Participating Companies
|
Participating Universities
The Board of Directors
MECOP administration is overseen by a Board of Directors. Directors are elected by the industry member representatives for staggered three year terms at the end of each year. Each Director may also head a specific committee (e.g. Finance, Student Support, Operations). Directors collectively work with the Executive Director to carry out the MECOP mission.
Meet our Board of Directors...
The Executive Director
MECOP's Executive Director is responsible for the implementation and administration of the program, reporting directly to the Board of Directors. It is a full-time position supported by the MECOP Board of Directors and the MECOP Office. This organizational structure is designed to ensure accountability to both industry and the Universities and promotes a balance between the two interests.
The MECOP Office
The MECOP Office runs the day-to-day operations of the program. This includes, but is not limited to:
Managing program related records and materials.
Planning and administering MECOP events (e.g. Internship Placement Interviews).
Facilitating communications among the three parts of MECOP (students, industry and universities) through the MECOP website and email/phone communications.
Assisting the Executive Director and the Board of Directors with program administration.
Handling the day-to-day finances of the program.
Meet the Director and our Office Staff...
Financial Overview
Funding the Program
Each member company pays a fee to the program. If a member company is in CECOP (the Civil Engineering branch within MECOP), this fee is based on the size of the company. For all other companies participating in MECOP, it is a base fee plus a fee per student. The exact amounts for the fees are determined by the Board of Directors and annually voted for approval by industry representatives. The funds raised are used to support the administrative end of the program (The MECOP Office), along with other administrative overhead incurred through the operation of the program.
Annual Reports
Job Description
The Executive Director is a key position within MECOP and serves at the will of the Board. This position serves as a direct liaison between the member organizations, participating universities, and students. The Director is responsible for the day to day business operation of the Corporation. This is a full-time, exempt, salaried position reporting to the Board of Directors.
Qualifications
Bachelor's or Master's degree in Engineering, Business, Management or related field.
Minimum of 5 years' experience in a Senior Leadership position.
Experience in a leadership or director position with a non-profit organization a plus.
Previous experience with MECOP or similar internship program a plus.
Experience working in or with University engineering departments a plus.
Key Competencies and Attributes
Passion for the Organization's Mission.
Strong verbal and written communication, presentation, and relationship development.
Proven ability to manage an organization in a fast-paced environment.
Demonstrated ability to develop and implement successful strategic plans.
Demonstrated ability to work with private industry, public agencies, and universities.
Ability to work with and lead students.
Organizational Financial acumen.
Ability to lead and motivate.
Sound decision making ability.
Accountability.
Honesty and integrity.
Conflict management.
Succession planning experience.
Organized.
Skills
Knowledge and experience with MS Office including Word, Excel and Outlook.
Job Duties
Program Implementation
Serve as the public spokesperson for the corporation
Advertize and promote the program.
Supervise, direct, and review activities of MECOP staff.
Direct the program according to the approved bylaws and Operations Manual while reporting directly to the Board of Directors.
Administer MECOP events, following general guidelines and input from the Operations Committee and in accordance with the Operations Manual.
Participate in all MECOP Inc. Board of Directors meetings, strategy meetings, Member & Advisor meetings, and meetings of the Executive Committee.
Work with the Treasurer and the Finance Committee in the preparation of the corporation's annual budget.
Administer the budget for MECOP Inc. Make recommendations to the Board of Directors if budgeted shortfalls are projected.
Meet regularly with the Treasurer to review and monitor the corporation's financial condition.
Ensure that the financial control policies are in place and followed.
Manage the process for completing the corporation's Annual Report.
Provide oversight and responsibility for the official files of the program.
Accomplish other activities as directed by the Board of Directors.
Member Support
Recruit new companies as required to meet program growth strategies and advise the Board on needs and opportunities.
Serve as a mentor to new members during their first year in the program. Visit first year member organizations at least once during an appraisal meeting.
Partner with the Chair in planning and scheduling events and meetings for the coming year including managing the details associated with the agendas and other documentation.
Manage any issues with member organizations in accordance with Board of Directors and the procedures documented in the Operations Manual.
Student Support
Manage support for student related activities as required.
Provide guidance and trend information to the Board on the supply of interns and availability of internships at member Organizations to assist in development of strategic plans.
Coordinate the scheduling, content, and industry representative participation for intern specific classes and seminars.
Administer and evaluate Summer plant tours, using general guidelines and input from the Student Support Committee.
Review and administer activities to equalize yearly internship supply and demand.
Mitigate all issues or problems reported by MECOP students to participating university staff or MECOP Program in accordance with the Operations Manual.
University Support
Inform university Dean(s), management staff, and department heads, of program related issues affecting their departments.
Serve as liaison between the universities and member organizations.
Hold regularly scheduled meetings with MECOP University Advisors.
Benefits
Medical, dental and life insurance
Retirement Plan (SEP-IRA and optional 403b)
Vacation, sick, bereavement, jury duty & witness benefit leave.
Ten (10) paid holidays each year.
Flexible work hours.
Business Travel Expense Reimbursement
Application Process
Please provide the items listed below when submitting your application. Applications will be reviewed starting August 1st and will only be considered if all items are present. After the application deadline (Sept 4, 2018) we will be contacting qualified candidates with further information to continue the screening process.
A cover letter (maximum of two pages), describing how your skills and experience would meet the requirements outlined in the job description and what you uniquely would bring to the job.
A resume that includes a chronological work history. References will be requested of final candidates.
Application Deadline: September 4th, 2018.